Trends in New Home Construction 
With New Home Starts and New Home Construction on the rise all around the country, we thought we would discuss the Hot Trends in New Home Construction.  These apply also for home renovations.
Go Green
The biggest trend in New Home Construction is energy efficiency.  Energy efficiency is measured by HERS – Home Energy Rating System.  The lower the number the better.  A typical resale home has a HERS of about 130.  New Construction homes, have standard ratings of 100 and go down dramatically from there, saving you THOUSANDS of dollars over time.  New homes also come equipped with energy saving appliances.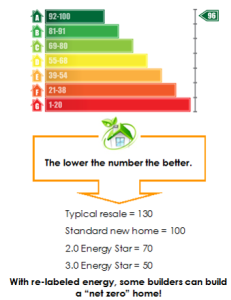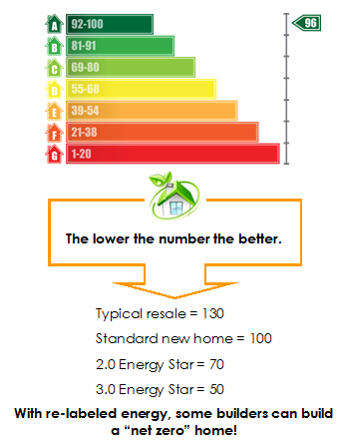 Kitchen Area
The kitchen is the gathering place in most homes.  If you're sick of the same stark kitchens and stainless steel scattered throughout, 2014 is the year to give the hub of your home some character. More and more, kitchens are incorporating dining rooms and sitting rooms into a unified space. Consequently, kitchen cabinets are looking more like fine furniture, and counters and islands are becoming dining tables. Banquette seating can offer comfortable seating for people who congregate in the kitchen for more than food.
Check out our New Home Ambassador Buyer Trade In program
Paint and Light
Painting a room will make the most noticeable improvement in your home, for the least cost. Some locations, such as entry halls with artwork, might really stand out with a dramatic color. Using color to lighten the room will also make it appear larger. Light in general has that effect, so bringing light into a room by adding light fixtures, changing window coverings from drapes to light-filtering blinds or adding a window to a room will have the effect of a larger home without the cost of actually having to build an addition. Sometimes adding a window is all that is needed to change the classification of a space under your city's building code from storage to a habitable room–which will result in a substantial increase in home value relative to a low cost of improvement.
Handles and Hinges
Details can make a big difference, especially in the kitchen and bathroom. Cabinet pulls can transform stock kitchen cabinets into a designer showcase. New kitchen and bathroom sink faucets can lend the impression of a full kitchen or bath remodel. New shower rods, exposed door and cabinet hinges, and mirrors all improve the shine of a space and draw attention away from drab features.
Built-Ins
When space is at a premium, making more of it within the existing building envelope is a cost-saving investment over actually building an addition. Building or installing closet organizers will free room space. With less furniture, rooms appear larger, lighter and more open. Built-in bookcases and home entertainment centers have the same effect and can add a lot of character to a room. Reversing the swing of a door can free 6 square feet of room space and improve traffic patterns through the house.
Outdoors and Landscaping
Courtyards, outdoor entertainment areas, resort style pools and outdoor kitchens are all hot items in New Home construction.  When considering the outside of your new home, don't neglect the yard.  Drought-tolerant trees, bushes and plants can add color and interest to the yard.