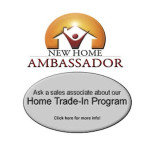 5 Reasons To Bring A Realtor With You To A New Build
5. Experience: The agent that you use may already have a relationship with the agent at the new build office.  This will be handy during the negotiation process.  Your agent will also have an in depth knowledge of home values in the area and be able to share their expertise with you on the value that you're getting for your new build home.
4. Knowledge: Your real estate agent will help you manage the entire process of purchasing a new build home.  There's more to it than signing some documents and picking out flooring and cabinetry. Your agent will accompany you to inspections and ensure that comes with a 10 year back structural warranty.
3. Saving Money: It is a common misconception that not using a Realtor will save you money in a new home purchase.  The reality is it is a completely free service to you, the seller will pay for your representation.
2. Sales Price: Did you know that home builders are less likely to negotiate price with you if you are not represented by a realtor? Having a realtor with you to ensure that your paying the best price, getting the best incentives and getting the best service out of the sellers agent.
1. The Purchase Agreement: As you have read above, there are many stipulations in a contract that you may not be familiar with. Having a realtor with you Will be an extra set of eyes going through a contract with your best interest in mind.